Abstract
Because of time-reversal symmetry, two-dimensional topological insulators support counterpropagating helical edge modes. Here we show that, unlike the infinitely sharp edge potential utilized in traditional calculations, an experimentally more realistic smooth edge potential gives rise to edge reconstruction and, consequently, spontaneous time-reversal symmetry breaking. Such edge reconstruction may lead to breaking of the expected perfect conductance quantization, to a finite Hall resistance at zero magnetic field, and to a spin current. This calculation underpins the fragility of the topological protection in realistic systems, which is of crucial importance in proposed applications.
Received 29 September 2016
DOI:https://doi.org/10.1103/PhysRevLett.118.046801
© 2017 American Physical Society
Synopsis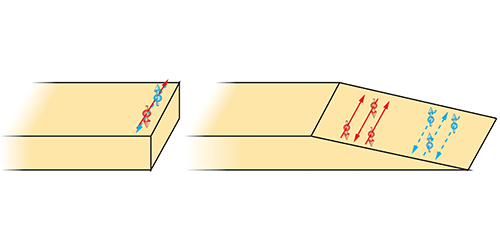 Published 26 January 2017
A topological insulator with beveled, as opposed to sharp, edges might lose the attributes that make it attractive for applications.
See more in Physics