Ofer Moshe
Optical properties of Semiconductor Nanostructures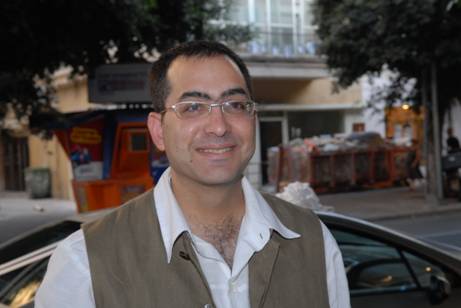 Advisor: Prof. Dan Rich
Ofer Moshe [CV]
PhD student
Lab. optical studies of quantum nanostructures
Physics Department and The Ilse Katz Center for Nano and Meso Scale Science and Technology
Beer-Sheva 84105 Israel
Email: mosheo@bgu.ac.il
Phone: 972-8-6477682
Fax: 972-8-6472810
Location: 54/-115

Research description
Effect of stress on the optical properties of GaN/AlN SAQDs grown on Si(111)
Heterostrucutres made from semiconductor compounds of elements from the third column of the periodic table and Nitride from the fifth column such as Ga-N (GaN), Al-N (AlN), In-N (InN), and their ternary and quaternary combinations (such as InxGa1-xN, AlxGa1-xN and InxAlyGa1-x-yN), have attracted much research attention both on fundamental semiconductor physics and in applications. Many fundamental research issue in this subject remain open, to name a few: screening in heterostrucutres of the electric field crated by the piezoelectric and pyroelectric polarization present in these semiconductors, the exact values of some material parameters relating to the their band structure, stress effects on the electronic and optical properties. On the technological side regarding applications research is done on utilizing these semiconductors for example to: optoelectronic devices (lasers, light emitting diodes, and so on) in the blue-green to ultraviolet region of the electromagnetic spectrum (recent example the Blue-Ray DVD which uses InxGa1-xN/GaN heterostrucutres), IC in high temperature environment due to the large thermal stability of these semiconductors compared to Si an Arsenide based semiconductors and high speed transistors with working frequencies high into the microwave regime.
Self Assembled Quantum Dots (SAQDs) are strain formed nanostructures namely created using an assembly process (Stransk-Krastnov growth mode). SAQDs are form when a very thin layer of low band gap (large lattice constant) semiconductor is grown epitaxially on a large band gap (small lattice constant) semiconductor substrate. Due to a large mismatch in the lattice constant strain forms and the strain energy is relaxed to equilibrium through the formation of 3D islands. These islands are covered by a semiconductor with large band gap (usually the same semiconductor as the substrate) which converts them to a 3D potential well which enables confinement of electrons and holes.
A known problem in growing Group III-Nitride semiconductors films (SAQDs or quantum well/wires) is the lack of suitable substrates. A common substrate is Si(111), (integrating any group III-V compound semiconductors films with existing mature Si fabrication technology is one of the important future goals of the micro/nano electronics industry) along with sapphire. It is well known that when one grows group III-Nitride film on a Si(111) substrate cracks appear on the grown film. The crack results from thermal expansion coefficient mismatch between the group III-N film and the Si(111) substrate. When the wafer is cooled to room temperature from growth temperature (~500-600 Celsius) the III-N film contracts in a faster rate then the Si(111) substrate. This difference between contraction rates lead to the formation of stress (in addition to the stress already present from SAQDs growth) in the layer of SAQDs which is relaxed by the formation of cracks.
It was found that it is possible to use cracks as an excellent way to perturb the strain which is present in heterostrucutres, namely using the cracks to do fundamental research and not treat them as an undesired artifact of the growth process which should be eliminated. The cracks form an additional stress configuration in the film of SAQDs which is: Uniaxial (σyy >0, σxx =0) in close proximity to the crack (≥0.5μm), Biaxial (σyy >0, σxx >0) in regions far from a crack (≤3μm) and in the intermediate region linear change in σxx until σxx=σyy.
The implantation of this feature is done by exciting (creating excess electron hole pairs) the SAQDs in local way, namely exciting small amount of SAQDs (typical SAQDs density is 5"1011cm-2 and mall amount is ~100) at different distances from the crack, which means that SAQDs with different thermal stress values are excited as one moves from the crack edge to region far away from the crack. The excitation method used to achieve this is Cathodoluminescence (CL), which is based on a Scanning Electron Microscope (SEM) with an optical collection system that collects the luminescence emitted from the sample due to the electron beam excitation. This method has a much larger spatial resolution compared to excitation by a laser beam (Photoluminescence) which is in the sub micro regime.
I perform measurements of the optical properties of a stacked layer of GaN SAQDs with AlN barriers. The measurements include polarization of the light intensity emitted from the SAQDs ground state emission, ground emission decay time and spectra, as a function of distance from the crack, temperature and degree of excitation. This measurements enable me to build models explaining the effects of stress on the electronic structure (energy levels, wavefunctions) This measurements enable me to build qualitative and quantative theoretical models explaining the effects of stress on the electronic structure and optical properties (energy levels, wavefunctions, optical transition matrix elements,…) of the SAQDs. This will enable an understanding on how stress affects the optical properties of group III-N SAQDs. And possibly in the future to tailor stress effects on these SAQDs to devices.
I also conduct research on:
1.

Nanostructures made from II-VI semiconductors

.
2. InxGa1-x N/GaN Multiple Quantum Well used as syntilator for electron detectors.
3. Carrier dynamics in InxGa1-xAs/GaAs Quantum Dots.
Publications:
Polarized cathodoluminescence study of GaN/AlN quantum dots with variable excitation, O. Moshe, D. H. Rich, B. Damilano and J. Massies, In perpetration, to be submitted to J. Appl. Phys.
Polarized emission from GaN/AlN quantum dots subject to uniaxial thermal interfacial stresses, O. Moshe, D. H. Rich, B. Damilano and J. Massies, Accepted for publication (in-press) in Journal of Vacuum Science and Technology B.
Carrier relaxation dynamics of ZnxCd1-xSe/C core/shell nanocrystals with phase separation as studied by time-resolved cathodoluminescence[pdf]
Y. Estrin, D. H. Rich, O. Moshe, Sayan Bhattacharyya, and A. Gedanken, Appl. Phys. Letts 95 181903 (2009).
Highly Luminescent ZnxCd1-xSe/C Core/Shell Nanocrystals: Large Scale Synthesis, Structural and Cathodoluminescence Studies [pdf]
S. Bhattacharyya, Y. Estrin, O. Moshe, D. H. Rich, L. A. Solovyov, and A. Gedanken, ACS Nano 3 (7) 1864 (2009)

Perturbing GaN/AlN quantum dots with uniaxial stressors [pdf]
O. Moshe, D. H. Rich, B. Damilano and J. Massies, Physica Status Solidi (c), 6, No. 6 1432 (2009)

A one-step,template-free synthesis, characterization, optical and magnetic properties of Zn1-xMnxTe nanosheets [pdf]
A. Gedanken, S. Bhattacharyya, D. Zitoun, Y. Estrin, O. Moshe, and D. H. Rich, Chem. Mater. 21, 326 (2009).

Effect of a uniaxial stress on the polarization of light emitted from GaN/AlN quantum dots grown on Si(111) [pdf]
O. Moshe, D.H. Rich, B. Damilano and J. Massies, Phys. Rev. B 77 155322 (2008)

One-Step Solvent-free Synthesis and Characterization of Zn(1-x)MnxSe@C Nanorods and Nanowires [pdf]
Sayan Bhattacharyya, Ilana Perelshtein, Ofer Moshe, Daniel H. Rich, and Aharon Gedanken Adv. Funct. Mater. 18 1641 (2008)

Microcrack-induced strain relief in GaN/AlN quantum dots grown on Si(111) [pdf]
G. Sarusi, O. Moshe, S. Khatsevich, D. H. Rich and B. Damilano, Phys. Rev B 75 075306 (2007)

Cathodoluminescence Study of Micro-crack-induced Stress Relief for AlN Films on Si(111) [pdf]
G. SARUSI, O. MOSHE, S. KHATSEVICH, D.H. RICH, J. SALZMAN, B. MEYLER, M. SHANDALOV and Y. GOLAN, J. Elec. Mater. 35 L15 (2006)
Attending Conferences and Schools
American Physical Society March 2010 Meeting [Link]
March 2010, Portland, Oregon, USA.

2nd International Summer School Physics of Functional Micro- and Nanostructures [Link]
September 2008, Hamburg, Germany.

The 35th International Symposium on Compound Semiconductors (ISCS) [Link]
September 2008, "Europa-Park", Rust near Freiburg, Germany.